One of the first questions many startups face is whether to hire in-house IT or outsource their IT needs to an MSP (managed services provider). While IT is often handled by a particularly tech-savvy team member early on, the needs and responsibilities soon exceed that of a part-time role. There are pros, cons, and costs to both approaches. We're here to run through both approaches' pros, cons, and costs and help steer you in the right direction for your organization. After all, getting your tech strategy right early is one of the keys to success.
The costs of in-house IT
Hiring in-house for your IT certainly comes with some significant benefits. An in-house IT manager or technician will have intimate knowledge of your in-house systems and products, as they are often the ones that built them. This will be a huge benefit for startups that develop their own proprietary software or products that require IT support. An MSP just isn't going to have the resources because it's not their product.
However, going the in-house route can be quite expensive, especially for a smaller and more agile company. You'll have people costs (salaries and benefits), software costs, and you'll have to factor in downtime. The base salary for an IT support tech can have quite a wide range. A high-end IT hire might be too expensive for a startup, whereas an entry-level tech isn't equipped with the knowledge or experience to advise on strategic decisions. Beyond just salary, you have to account for benefits and find solutions for IT support when your IT hire takes well-earned PTO or needs to use sick time. Also, if you do part ways, you'll have to train again from the beginning and leave yourself somewhat vulnerable to your practices if the relationship sours.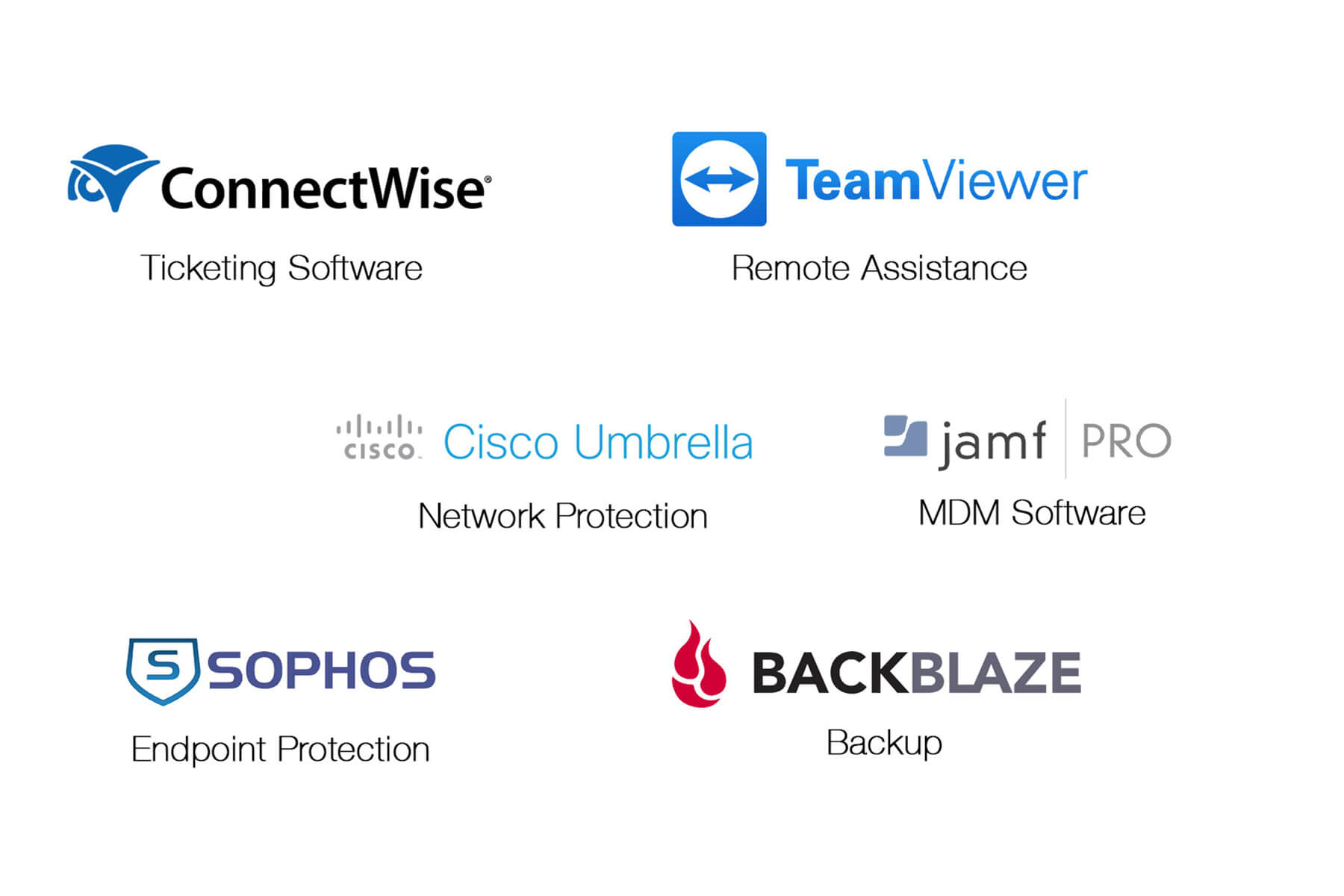 When hiring in-house, not only do you need to hire the right person or people, but you also need to equip them with the right tools for the job. This is more than just buying them a laptop and antivirus software to deploy. An IT department will need software for ticketing, remote assistance (TeamViewer or similar), network and server monitoring tools, an MDM (we use Jamf!), protection tools such as firewalls and device monitoring, and backup solutions. For an organization just starting out and tight on funding, this is likely too much to procure all on your own.
The cost benefits of an MSP
Pricing simplicity
One of the biggest benefits of outsourcing your IT needs to an MSP is pricing simplicity. What you pay depends on your needs and the number of your users and servers. Most MSPs bill every month, allowing for better IT budgeting, and adjust as you grow.
As far as software, MSPs manage many clients at once, often utilizing the same software stack for each. This gives them access to better pricing on software than you would get procuring a license on your own. Those cost savings are then passed on to you.
Expert-level support
Working with an MSP gives you access to a robust team of IT specialists and engineers. Rather than hiring one "jack of all trades" technician that will attempt to handle all of your systems and networking, an MSP can afford to hire dedicated specialists for every branch of IT. At TSP, we have specialists in cybersecurity, remote management, logistics, onboarding/offboarding, lifecycle management, and more. The benefit of this is that whenever you submit a support request, our dispatcher triages your issue and assigns it to the technician best suited to diagnose and fix it. This means your issues get handled by the very best and are fixed much quicker and more efficiently than they would be with in-house IT.
Scalability
As your company grows, your support needs will too. To scale your IT department internally, you'll likely need to hire another IT staff member for every 25 employees, which, as we mentioned above, comes with its own challenges and costs. With an MSP, they are prepared to help you grow and even expect it. As your employees and profits increase, so will your IT needs. With an experienced MSP at your side, you can prepare for growth and manage it effectively. A good MSP will work with you to develop cybersecurity policies, technology guidelines, and lifecycle management protocols early so you get started on the path to success. Over the past 30 years, we've helped companies grow from the very beginnings to being titans of their industry, partnering with them every step of the way.
A third option
For many years, a startup had two options for their IT; hiring in-house or outsourcing. Today, companies need to be far more adaptable to thrive, and a third option has become a proven path to success. Co-managed IT. With this option, you have an internal team or individual working for you and an MSP you partner with for special projects or more complex tasks. This gives you the benefits of both worlds and can even be more cost-effective than either approach alone if done correctly. With a co-managed approach match our services to the client's specific needs with a co-managed approach. If they require extra support on the low-end such as level 1 tickets or simple support issues, or if they require more high-end support, such as escalation strategies or strategic advice, we can adjust our services to meet their needs.
Check out our case study exploring how a co-managed approach to IT helped Cohere Health grow from startup to success.
More than anything, the co-managed IT experience allows TSP to ensure that our partners can have a direct focus on the items that are most important – be it supporting internal teams on their product or working towards and achieving compliance initiatives – without worrying about the other equally important aspects of IT. – Adam Fisk, Director of IT Services
The emergence of the vCIO
Some of our most successful relationships have come from a co-managed approach, and this option seems to only be growing in popularity with the emergence of the vCIO role. A vCIO (virtual chief information officer) is a contractor or company that serves as an organization's CIO, collaborating with and advising clients' IT departments. They help formulate strategic IT goals, plan budgets, and help facilitate technology changes. Where a more conventional MSP relationship might focus more on service delivery, the vCIO role takes on a broader view, focusing on business strategy and IT alignment.
Your next steps
Still unsure which approach is best for your organization? Get in touch and we can talk through your options. We've been in the business of helping organizations grow the right way for 30 years, and would love to see you succeed as well. Contact us today to get started!